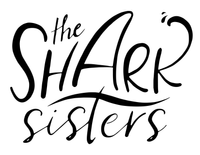 Why do we call ourselves "The Shark Sisters," you might ask? Well, our trio decided that the shark is our spirit animal. Sharks might be a little scary, but we believe life begins at the edge of your comfort zone. With our music, we hope to inspire ourselves and others to live boldly, to continue growing, to keep taking risks, while always keeping a sense of humor.
We also think it's fun to celebrate that we all now live near Venice, Florida, which is known as "The Shark Tooth Capital of the World." If you'd like to know about Venice and it's shark teeth claim to fame, CLICK HERE for a great article about how it came to be known as the shark tooth capital. 
To keep updated on our upcoming events, click here to join our mailing list, or LIKE us on Facebook. 
Have a swimmingly good week, and hope to see you soon!